Regenerative Medicine Research Earns vanSchaayk Top Poster Honors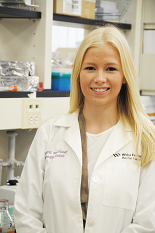 One of the top student research projects nationwide accepted for participation in the 22nd Annual Posters on the Hill comes from Wake Forest Institute for Regenerative Medicine Summer Scholar alumnus Margaret vanSchaayk.
Posters on the Hill is sponsored by the Council on Undergraduate Research (CUR) which is dedicated to promoting undergraduate research and scholarship. vanSchaayk's poster was selected from among 400 competitive applications which were narrowed to just 60. Her poster is titled, "Effects of Bioactive Molecules on Skeletal Muscle Development in 3D Bioprinted Muscle Constructs."

vanSchaayk participated in WFIRM's Summer Scholars 2017 program where she spent 10 weeks in the lab working on 3D bioprinted muscle constructs with faculty mentors Sang Jin Lee, Ph.D. and Ji Hyun Kim, Ph.D. She graduated last May from Wake Forest University where she earned a bachelor's in communication with minors in chemistry and biology and has continued her research at WFIRM. She will graduate with her masters in bioethics in May and then apply to medical school.

"It is always exciting and gratifying when a student achieves such an honor," Lee said. "We are very excited for Margaret to represent WFIRM at this prestigious event."

She will attend the 22nd Annual Posters on the Hill, which will take place on April 17-18, 2018, in Washington, D.C. This popular, annual event gives students the opportunity to showcase their research to congressional members, meet with their representatives, and learn about advocacy for undergraduate research.
Read more at: http://www.wakehealth.edu/Research/WFIRM/News/Regenerative-Medicine-Research-Earns-vanSchaayk-Top-Poster-Honors.htm
Published March 26, 2018