CECT Acquires Six-Axis 3D Bioprinter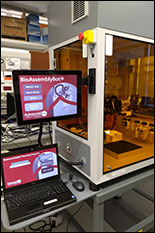 The Center for Engineering Complex Tissues (CECT) acquired a new BioAssemblyBot (BAB) 3D printer – an advanced bioprinter designed for tissue fabrication and 3D printing – from Advanced Solutions Life Sciences (ASLS).
The printer features a six-axis robotic arm, which allows for precise printing of complex 3D tissue components, with additional degrees of freedom for movement on both planar and non-planar surfaces. It is ideal for printing cell systems and 3D assays, experimental tissue models and microenvironments, organ models, microfluidic platforms, implant systems, and many other structures.
The BAB printer also offers multiple interchangeable tools and features, including:
High temperature head (rated to 135 °C)
Low temperature head (rated for 5 °C
UV head for UV-based crosslinking of bioinks
Two-component mixing tool (for mixing two bioinks before extrusion)
Surface scanning tool (for mapping surface features to enable non-planar printing)
Two ambient heads
Temperature controlled stage (10 °C to 60 °C)
In-built safety cabinet with HEPA filter for sterile printing environment
Tip-detection tool for precision during print
Adjustable syringe sizes from 30 mL up to 1 mL for low quantity bioinks
Additionally, the BAB offers many unique capabilities, including additive and contour 3D printing, precise temperature control, and a Tissue Structure Information Modeling (TSIM) software that can import 3D medical scans such as MRI and CT images in the DICOM or NIfTI formats. Such scans can be modified using the TSIM software to permit 3D printing of features in non-planar geometries.
Using the surface scanning tool, the user can also scan an existing 3D model and print features on top of those surfaces. As part of the agreement between CECT and ASLS, additional features and designs that are currently not available on the BAB may be requested for development (if unavailable) or installation (if available).
The BioAssemblyBot is located in room 3121A in A. James Clark Hall and is managed by members of Fischell Department of Bioengineering Chair and CECT Director John Fisher's lab group. Those interested in using the printer for a project should contact CECT Assistant Director Bhushan Mahadik to inquire about fees and availability.
Published October 31, 2018