Shoichet Named Ontario's First Chief Scientist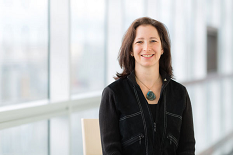 Molly Shoichet, a CECT collaborator, has been named Ontario's first chief scientist, a position created to advise Ontario Premier Kathleen Wynne on key scientific issues.
An internationally respected expert in the study of polymers for drug delivery and tissue regeneration, Dr. Shoichet holds the Canada Research Chair in Tissue Engineering at University of Toronto and has founded three spin-off companies from her lab research. She received the Killam Prize in Engineering in 2017 and was the North American Laureate for the 2015 L'Oréal-UNESCO for Women in Science Awards. Among other honours, Dr. Shoichet is the only person to have been inducted into all three of Canada's national academies: the Canadian Academy of Sciences of the Royal Society of Canada, the Canadian Academy of Engineering and the Canadian Academy of Health Sciences.
Shoichet has also been named an Officer of the Order of Canada and was recognized for her research in biomedical engineering and her work to promote women in the science field as well as to advance scientific literacy. She is a professor of engineering and chemistry at the University of Toronto.
Shoichet is leading CECT collaborative project "Design of a High Content Personalized Medicine Screening Tool for the Treatment of Cancer".
Read more at: https://www.universityaffairs.ca/news/people-on-the-move/announcements-february-2018/ and https://themedium.ca/news/u-t-faculty-given-order-canada/
Published February 5, 2018