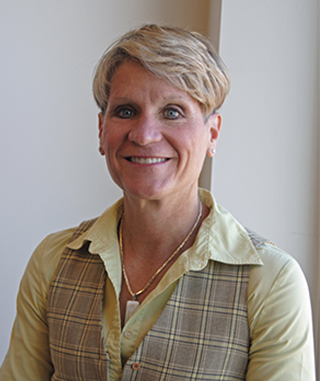 Education Program
Wake Forest Institute for Regenerative Medicine
Joan Schanck, MPA, is an Academic Research Program Officer. Her work is focused on providing high-quality educational programming within the field of tissue engineering and regenerative medicine science as well as to increase awareness of WFIRM's leadership role within this promising field of biomedicine.  
Joan's professional background includes over 20 years of specialized experience in administration, education, research, fund raising, collaborative team building, program development and direct care/services delivery within the university, community and non-profit, public health, and education setting. 
Joan was educated at the University of Pittsburgh, graduating with a Bachelor of Arts, concentrated on psychology and legal studies, and a Master's of Public Administration with graduate certificates in non-profit management, educational leadership, and policy analysis, focused on public health and public education policy. Throughout her career, Joan recognized the importance of education and the need to develop collaborative, multidisciplinary education and research training across formal and informal educational environments.
Joan was formerly the Director of Education and Workforce Development of the Pittsburgh Tissue Engineering Initiative (2001-2013).  In her role, Joan developed and implemented novel, interdisciplinary educational opportunities with programming spans the levels of learning to include undergraduate, graduate and post-doctoral training along with formal and informal educational experiences and programs for the general public, K-12 students and teachers. Joan has served as Principal Investigator of various NIH, NSF and DOD projects for the development of regional and national educational collaboratives joining academic researchers and educators with the community, government, the military and the K-12 classroom.
Top